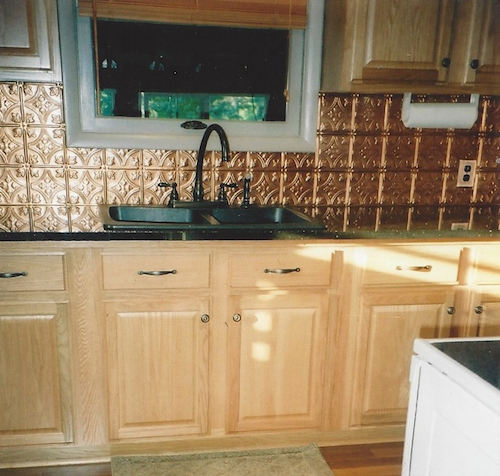 Tin ceilings and backsplashes are quickly becoming popular products for kitchen remodels and renovations. We have a wide variety of ceiling patterns and ceiling  finishes available. We guarantee to suit the style and décor of your kitchen. Abingdon has a tin ceiling product for your next residential or commercial design project.
Tin ceilings can be installed on top of plaster or sheetrock ceilings, or directly on to wood joists. They're a great way to provide texture or bright accent pieces to kitchen designs that feel heavy or monotonous.
Additionally, tin backsplashes protect your walls against splatter and mess while cooking. They are available in stainless steel and copper finishes so they can be cleaned easily. Tin backsplash can handle getting wet without damage, allowing them to last for years.
Aesthetically, backsplashes can provide that extra something to emphasize aspects of your design plan in a kitchen remodel. For example, clean metallic backsplashes can be used to create a neutral backdrop with a warm glow when used between darkly colored cabinets or countertops.
Matching tin finishes to your kitchen appliances and furnishings is a relatively easy way to give your kitchen a fresh and modern look on a tight budget.
Interested? Our estimator can come to your home with samples and brochures to work along with you to create the perfect solution for your backsplash or tin ceiling needs!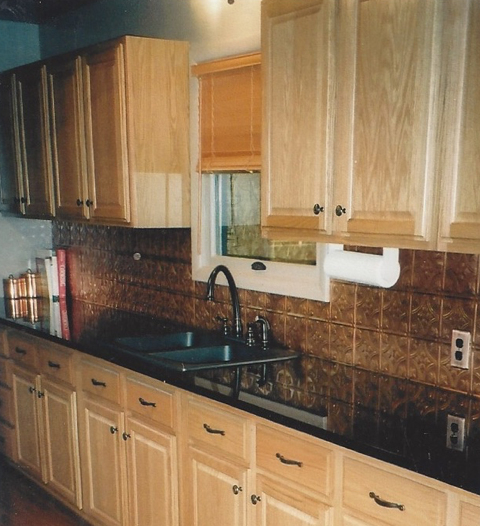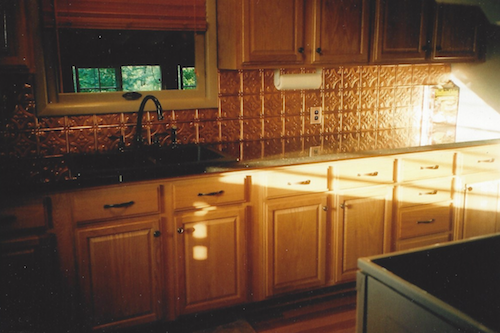 Backsplash Options
Patterns: 200, 204, 207, 208, 209, 210, 234, 235
Finishes: Stainless Steel, Copper
Styles: Gothic, Victorian, Art Deco, Colonial